Advocacy Links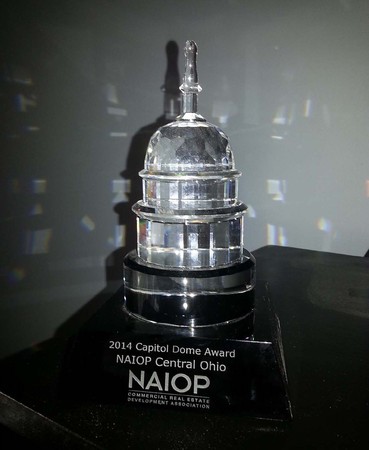 2014 Capitol Dome Award
Advocacy
Our goal is to provide current information about local, state, and federal laws that affect you and your business. Whether it's a news update or a Call to Action, we are a single source for the news you need. Central Ohio Legislative Chair,Brian Bingham, American Structurepoint.
Central Ohio Legislation being tracked by NAIOP
Ohio Legislation
HB209
Abolition of Dower (CARUTHERS S) To abolish the Estate of Dower in Ohio
Current Status: 4/18/19: Bill Introduced
HB48
LOCAL GOVT ROAD IMPROVEMENT FUND (GREENSPAN D) To provide for a new Local Government Road Improvement Fund for local governments to fund road improvements.
Current Status: 2/12/2019—Referred to Committee House Finance

HB75
PROPERTY VALUE CONTESTS (MERRIN D) To require local governments that contest property values to formally pass an authorizing resolution for each contest and to notify property owners.
Current Status: 4/9/2019 - REPORTED OUT, House Ways and Means, (Fourth Hearing)

HB149
PROPERTY TAX EXEMPT-RESIDENTIAL SUBDIVISION (MERRIN D) To enact the "Affordable Homebuilding and Housing Act" to temporarily exempt from property tax the increased value of land subdivided for residential development.
Current Status: 4/10/2019 - House Economic and Workforce Development, (Second Hearing)

SB8
TAX CREDITS-OHIO OPPORTUNITY ZONE (SCHURING K) To authorize tax credits for investments in an Ohio Opportunity Zone.
Current Status: 4/3/2019 - PASSED BY SENATE; Vote 31-0

SB39
MIXED USE DEVELOPMENT PROJECTS-TAX CREDIT (SCHURING K) To authorize an insurance premiums tax credit for capital contributions to transformational mixed use development projects.
Current Status: 4/2/2019 - Senate Finance Committee, (Second Hearing)

SB95
STATE AND LOCAL TAX INDUCEMENTS (KUNZE S, PETERSON B) To enhance state and local tax inducements for businesses making substantial fixed asset and employment investments and their suppliers.
Current Status: 3/12/2019 - Referred to Senate Ways and Means Committee

SB2
STATEWIDE WATERSHED PLANNING (PETERSON B, DOLAN M) To create a statewide watershed planning structure for watershed programs to be implemented by local soil and water conservation districts.
Current Status: 2/20/2019 - Referred to Committee Senate Agriculture and Natural Resources
**Special thanks to Matt Kallner's Office and NAIOP Ohio for tracking this legislation
---
Ohio Gas Access Partnership
The NAIOP Central Ohio Board has voted in favor of supporting a new initiative lead by Madison and Union Counties to form a coalition of interested stakeholders promoting a viable long term solution for additional natural gas supply in western Central Ohio. A recent study has shown that the natural gas supply west of Franklin County will reach capacity in about 5 years and a solution will be needed in order to meet future demand in one of the fastest growing regions of the state. If you are interested in learning more, please visit the Ohio Gas Access Partnership at www.ohiogap.org. We will continue to keep you updated as the initiative progresses.
---
Federal Legislation
SAFE Banking Act: In March, this legislation was introduced that essentially would prohibit lenders from being liable or subject to forfeiture for providing a loan or other financial services to a legitimate marijuana-related business. The House Financial Services Committee voted 45 to 15 in favor of the Bill. Central Ohio Rep. Steve Stivers (R-Ohio), offered an amendment to extend the bill's protections to insurers, which the Committee agreed to include. The bill is now before the House Judiciary Committee. To read more, click this article
New Treasury Regulations related to Opportunity Zones: Last week, the Treasury released additional regulations that clarified many uncertainties related to opportunity zones. Read More
CLICK HERE to visit the NAIOP Corporate website for additional government and legislative updates.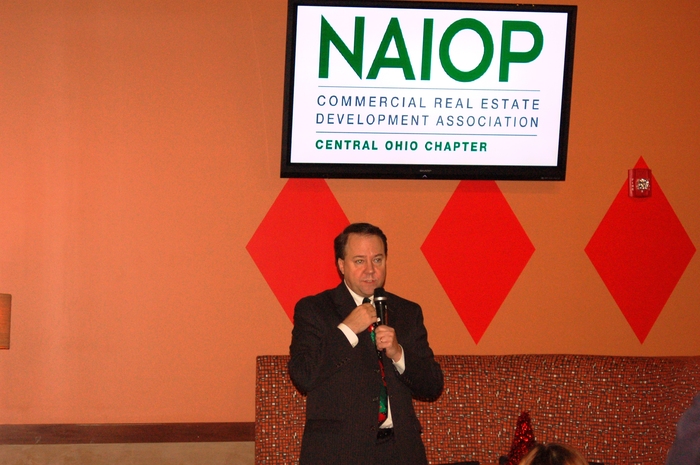 Rep. Pat Tiberi speaks to NAIOP sponsors
Ohio's Commercial Real Estate Development's Impact on the Economy in 2016:
Central Ohio District Maps
Legislative Contacts
Ohio Representatives
Ohio Senators
Find Your Federal Legislator
External Legislation Searches
Federal Legislation
Ohio Legislation
Other Resources
The Ohio Channel provides comprehensive coverage of state government issues
Ohio Laws and Rules
Joint Committee on Agency Rule Review (JCARR)
State Cards
Click on image to view full size